OUR CLIENTS
| | |
| --- | --- |
| | O.N.G.C |
| | Sedco Forex |
| | Hall Offshore Ltd. |
| | Techno Fibre (India) |
| | Essar Logistics Limited. |
PERSONAL
TRANSFER BASKET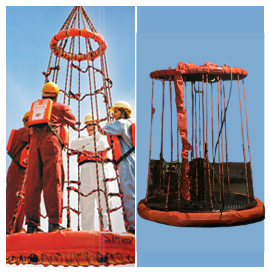 SERVICES

Sea Hook Engineering Works (SHEW) provided services in the following area:

Rigging, Recoiling and Installation of wire ropes for Cranes Life boat Davits and Winches
Servicing of lifting tackles (loose gears), slings, shackles, Hooks.
Testing of all type of lifting gears.

We provided services to shipping, offshore, stevedoring, marine & industrial entailments is one of the experts in the field of life boat & davits, ship's deck cranes servicing, repairing & (& P.P. rope Splicing), Wire Rope Socketing and all type of (Cables, conveyor belt & ropes) etc. We also expertise in making cable Lead Sling Capacity upto1000 Tons & above. Sea-Hook Engineering Works has been offering quality services to nationwide shipping, offshore, companies and has been growing rapidly with experienced and efficient team.

Sea Hook Engineering Works has been provide best personalized services in arranging Ship's gear to shipping, stevedoring companies for loading unloading of all type of cargo (General, Machinery, Bulk etc.) in Mumbai & other leading Ports in India.

Lifting Appliances

Cranes
Derricks
Overhead Beams with Trollies
Lifting Beams & Spreaders
Anchor & Anchor Chains
Comealong, Turfers & Fall Arrestors
Eye Pads, Smith Pads/Tow Brackets, Fair
Leads & Bollards
Goosenecks, Davits & A Frames
All kinds of Loose Gear/Tow Gear
Gangways & Ladders
Man Riding Baskets & Winches
Diving Bells

Life Boat Appliances
Bollard Pull Test

Life Saving Appliances

SCBA
EEBD
L/B Breathing Air Cylinders
Life Jackets
Immersion Suits
Medical Oxygen Cylinders
Resuscitators
Personnel Transfer Baskets

Winches

Brake Holding Test
Rendering Force Test
Pull Test
Reev/Unreev/Transfer of Steel Wire Rope

Choice Fabrication
NDT
Load testing of Lifeboat Davit

---

Load test of EOT crane, at 130 tons using water bags at Thermal power station.

---

Tendim operated crane, load tested
at 80 tons using water bags
Tendim operated crane, load test
at 80 tons using water bags

---

Load test of 'A' Frame with Dead Weight.

---

Load Testing Of Over Head Crane
with Dead Weight
Bollard Pull Test
Coiling and uncoiling of winch
wire rope
Load Testing Of Crane with
water bags
Load Testing of Safety Basket
with Dead Weight
Load Testing Of Crane with water
bags
Load Testing of container with
dead weight
Load Testing of gangway With
Capsule type water bag
Load testing of Personal
Transfer Basket
Load testing of Spreader Bar
Load Testing of Box Type Frame
spreader with Dead weight
Load Testing of Crane at 60 tons using water bags